Victorian PLUS - Victorian PLUS - Black (01)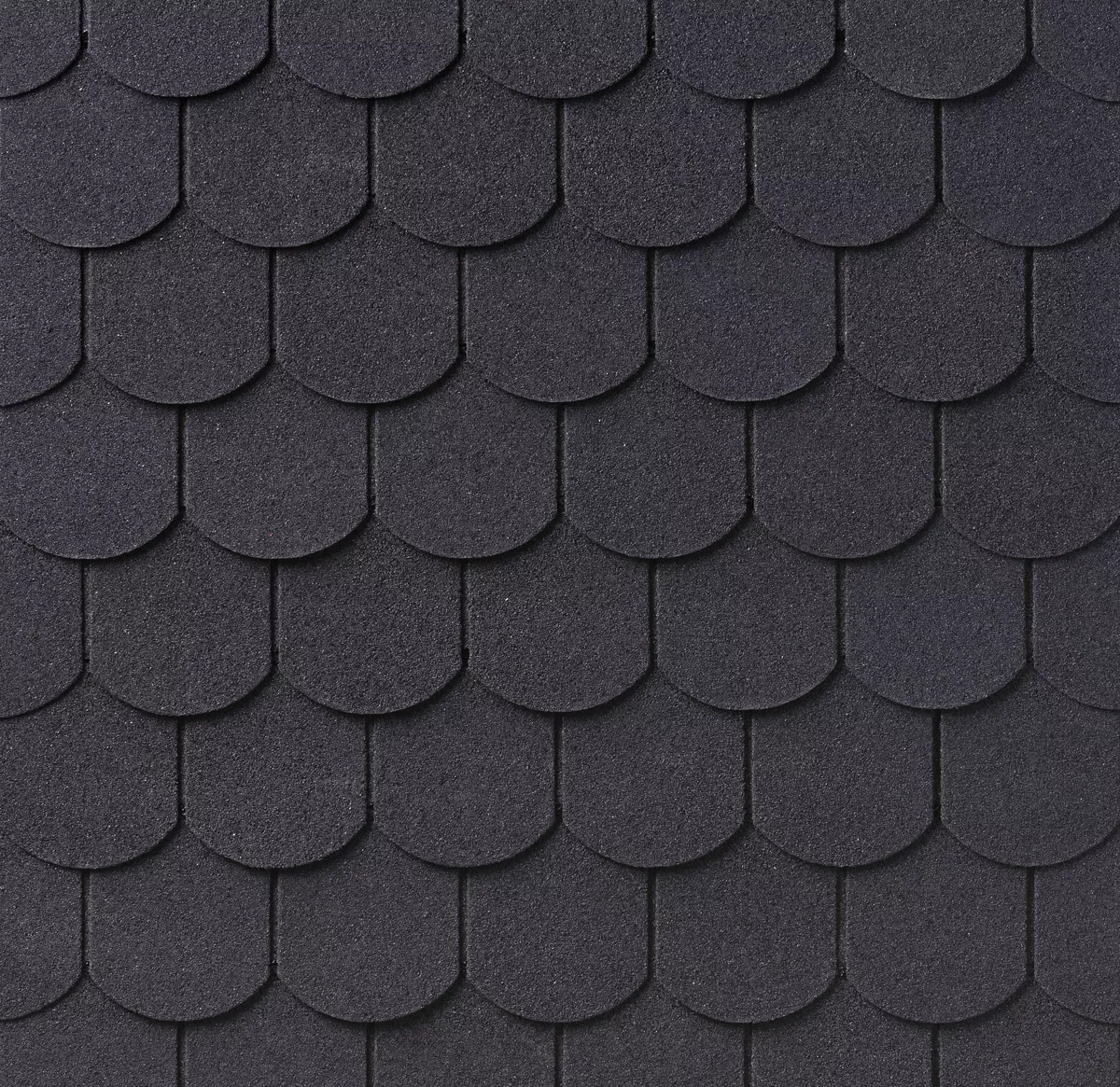 Built with a stable fiberglass base and a durable exterior covered with granules, Victorian PLUS forms an ultimate protection for your roof, which will offer you the best solution for your roof, as long as your roof slope is between 15°/20°-85°. 
Product data
| | |
| --- | --- |
| Roof Shingle width (according to norm EN544) | 1000 mm (± 3) |
| Roof Shingle height (according to norm EN544) | 336 mm (± 3) |
| Weight | ± 11,5 kg/m² |
| Coverage/bundle  | 2 m² |
| Roof Shingles/bundle | 14 |
| Bundles/Pallet | 66 |
| m²/Pallet | 132 |
| Weight/Pallet | ca. 1,52 t |
| Granule adhesion (EN 12039) | max. 1,2 g |
| Tensile strength (width)* (EN 12311-1) | 850 N/50 mm |
| Tensile strength (height)* (EN 12311-1) | 500 N/50 mm |
| Elongation width+height* (EN 12311-1) | 3,00% |
| Nail shank tear resistance (EN 12310-1) | 160 N |
| External fire performance | BroofT1 |
| Reaction to fire | class E |
| Declaration of Performance (DoP) | www.ikodop.eu |
| Platinum warranty | 10 years |
| Total warranty - warranty system | 20 years |
* Registered average values
Strong fiberglass shingles
Because of the demanding European standards, IKO Shingles only produces shingles with a glass fiber inlay.
Please be aware that organic shingles (with felt inlay) don't meet the EN norms. Even though IKO only offers a high quality fiberglass (and not felt!) based asphalt shingle, fiberglass roof shingles are often confused with organic felt shingles on the market. These felt shingles, also known as felt tiles or felt roof tiles, offer a below average quality.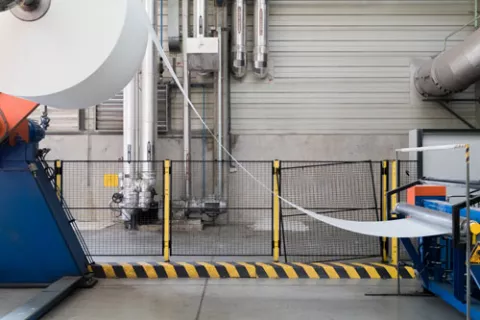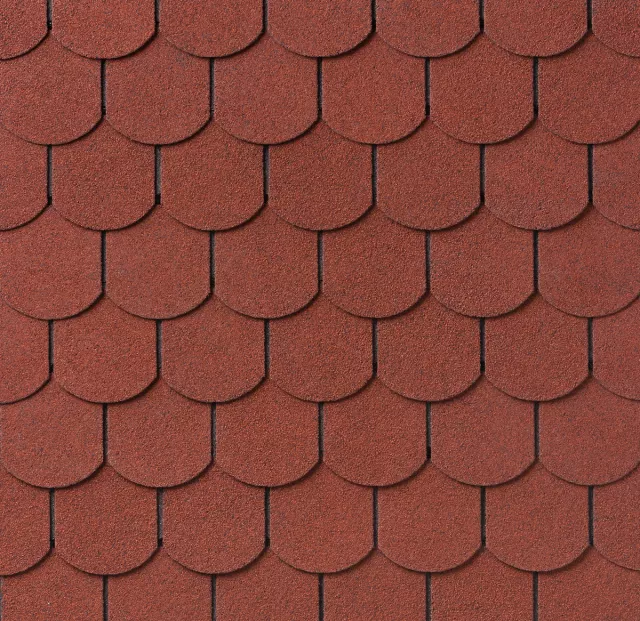 Calculate how many shingles and accessories you need for your next project!
Organic felt shingles and fiberglass shingles are NOT alike!
Here is why:
Being a strong and durable shingle, Victorian PLUS (with fiberglass inlay!) is resistant to all kind of weather conditions.
A roof shingle with an organic felt inlay (commonly referred to as felt shingles, felt tiles or felt roof tiles and – just to be clear - NOT in IKO Shingles)
on the other side is less waterproof and fireproof,
which can lead to premature and destructive curling and cracking.
Roof shingles with impressive tensile strength
Another argument to choose for Victorian PLUS is its impressive tensile strength. A short example of the test can be found in our film "How do they do it?". This movie shows the different stages of the production process and also gives a small look at a few important quality checks we do to make sure our IKO shingles deliver the high quality customers expect. One of these tests measures the tensile strength.
The average values we've registered for the Victorian PLUS are:
1000 N/50 mm for the tensile length (EN 12311-1) and
700 N/50 mm for the tensile width (EN 12311-1).
For the EN 544 standards the following minimum values are required: 600 N/50 mm for the tensile length (EN 12311-1) and 400 N/50 mm for the tensile width.
Looks like Victorian PLUS exceeds these standards by more than 65 % without any effort!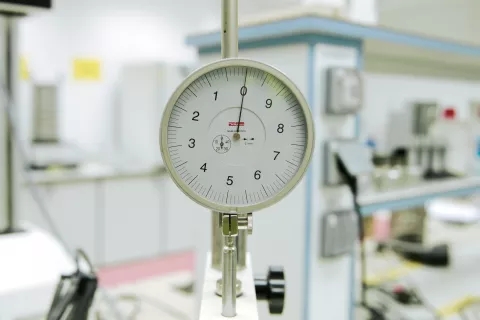 The advantages mentioned above also count for Armourglass PLUS (rectangular shaped) and Diamant PLUS (triangular shaped), 2 IKO roof shingles that offer the same quality as the rounded Victorian PLUS. The biggest advantages of these 3 types of IKO PLUS shingles are UV protection; flexibility at low temperature and APP modified bitumen. 
Your advantage with Victorian PLUS roof shingle:
APP modified bitumen (TÜM certified)
Superior quality high grade bitumen fibreglass shingle
Exceeds the most stringent worldwide standards
Additional UV protection thanks to APP Bitumen
Higher flexibility with low(er) temperatures
Easy application (for professional roofers):
Base is a wooden or concrete underdeck construction with a waterproof IKO underlayment.
Apply roof shingles with IKO nails.
You would need +/- 35 pc/m². Valley, hips and ridges are easy to install without purchasing a huge range of extra accessories.
Use Superglass 3TAB shingles to cover hips and ridges.
Foresee solid insulation and also good ventilation for an optimal and long-lasting roof - improving heating and cooling costs.
Eaves, rakes, walls, chimneys, roof windows, etc. require metal flashings.