IKO's Platinum Guarantee explained
You bought a new shingles roof with our Platinum Guarantee? Congratulations!
Roof Shingles are an attractive, lightweight, durable roofing material, ideal to protect your home. 
Roof shingles incorporate the latest advances in weather and wind-resistance, fire safety and long-lasting performance. IKO shingles, that are manufactured in Europe, are offered with our unique industry leading Platinum warranty, so you are covered in the unlikely event of leaks due to manufacturing defects.
Here are some tips and background information for you to ensure you enjoy your new roof for many, many years to come.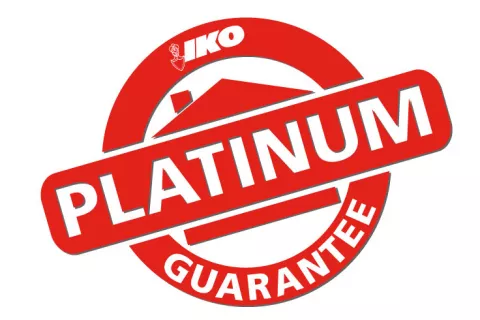 Double check with your roofer these conditions on your new roof or reroof project:
IKO Roof shingles can be installed on roof slopes >20° (or > 9.5° when installing Cambridge Xtreme 9.5°) - not lower without special underlayment procedures
Special sealing & nailing is required in windy areas and on roof slopes >60°
The installation season matters for sealing your roof shingles
Correct roof ventilation is very, very important!
A good quality roof deck is essential for a good roof
Shingles should be installed with good length, galvanised nails (not staples)
Proper application knowledge is key
What can IKO do for your roofer?
IKO shares roofer knowledge online on the IKO website and Youtube (like the video >>>) or via our tech support.
IKO has a special training centre for roofers
What can IKO do for YOU?
IKO Sales International NV guarantees that IKO Roof Shingles will remain free of manufacturing defects which cause leakage during the applicable guarantee period. This guarantee applies to IKO Roof Shingles, manufactured in Europe and begins at the date of installation or at the latest 6 months after delivery.
Platinum guarantee
= Period in which IKO guarantees the full cost (material, transport, labour)
Roof Shingles are replaced free of charge by IKO, including transport and labour (IF leaks occur due to a manufacturing defect).
Total guarantee
= Period after the Platinum period, in which IKO guarantees the material cost a rato.
IKO pays a prorated amount of the current value of the roof shingles (IF leaks occur due to a manufacturing defect).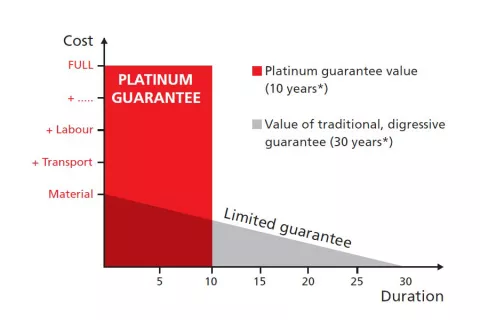 Complete guarantee conditions can be consulted here:
IKO does not offer long-life or 50 years of guarantee. Why is that?
The most common kind of guarantee on goods is a guarantee that the product is free from manufacturing defects in materials. This simply promises that the manufacturer properly constructed the product, out of proper materials. This implies that the product will perform as well as such products customarily do.
It is common for these to be limited guarantees, limiting the time the buyer has to make a claim. For example, a typical 90 day guarantee on a television gives the buyer 90 days from the date of purchase to claim that the television was improperly constructed. Should the television fail after 91 days of normal usage, which because televisions customarily last longer than 91 days means there was a defect in the materials of the television, the buyer nonetheless may not collect on the guarantee because it is too late to file a claim.
Time limited guarantees are often confused with performance guarantees. A 90 day performance guarantee would promise that the television would work for 90 days, which is fundamentally different from promising that it was delivered free of defects and limiting the time the buyer has to prove otherwise.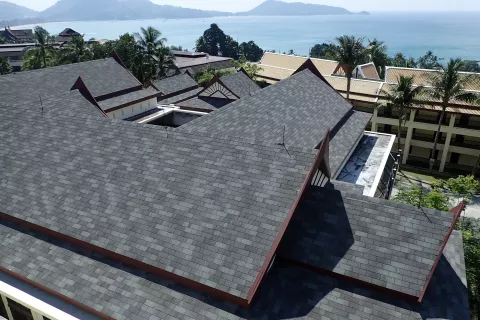 One situation in which the effect of a time limited guarantee is different from the effect of a performance guarantee is where the time limit exceeds to normal lifetime of the product. If a coat is designed to last two years, but has a 10 year limited guarantee against defects in materials, a buyer who wears the coat for 3 years and then finds it worn out would not be able to collect on the guarantee. But it is different from a 2 year guarantee because if the buyer starts wearing the coat 5 years after buying it, and finds it wears out a year later, the buyer would have a guarantee claim in Year 6. On the other hand, a 10 year performance guarantee would promise that the coat would last 10 years.
A lifetime guarantee is usually a guarantee against defects in materials and workmanship that has no time limit to make a claim, rather than a guarantee that the product will perform for the lifetime of the buyer. The actual time that product can be expected to perform is normally determined by the custom for products of its kind used the way the buyer uses it.
How long is a lifetime warranty?
If there is a leakage defect on your roof due to manufacturing defect, you will surely notice this within the first 2-5 years after installation. Any defects that suddenly occur after 35, 40 or even 50 years are not related to manufacturing defects, which is guaranteed in guarantee systems by shingle manufacturers.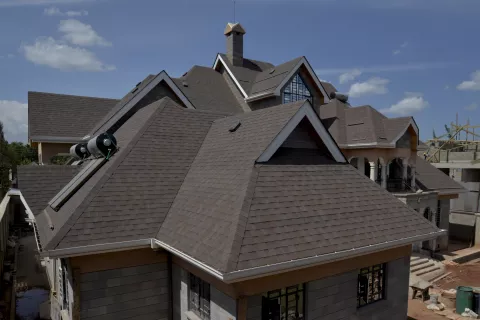 That is why IKO does not want to confuse you by saying: "Our products are lifetime guaranteed".
IKO offers you the maximum (Platinum) guarantee in the first 5-15 years, where material, transport and labour costs are covered in case of manufacturing defects and then after that period a pro rata material costs (Total guarantee).
IKO is in the roofing business for more than 60 years and is a financially healthy company without any external debts. This manufacturer's Platinum and Total guarantee is more solid for you to depend on than a guarantee from a small local distributor. 
IKO Platinum and total guarantee warrants shingles that are manufactured in Europe.