Cambridge Xpress - Cambridge Xpress - Amazon green (43)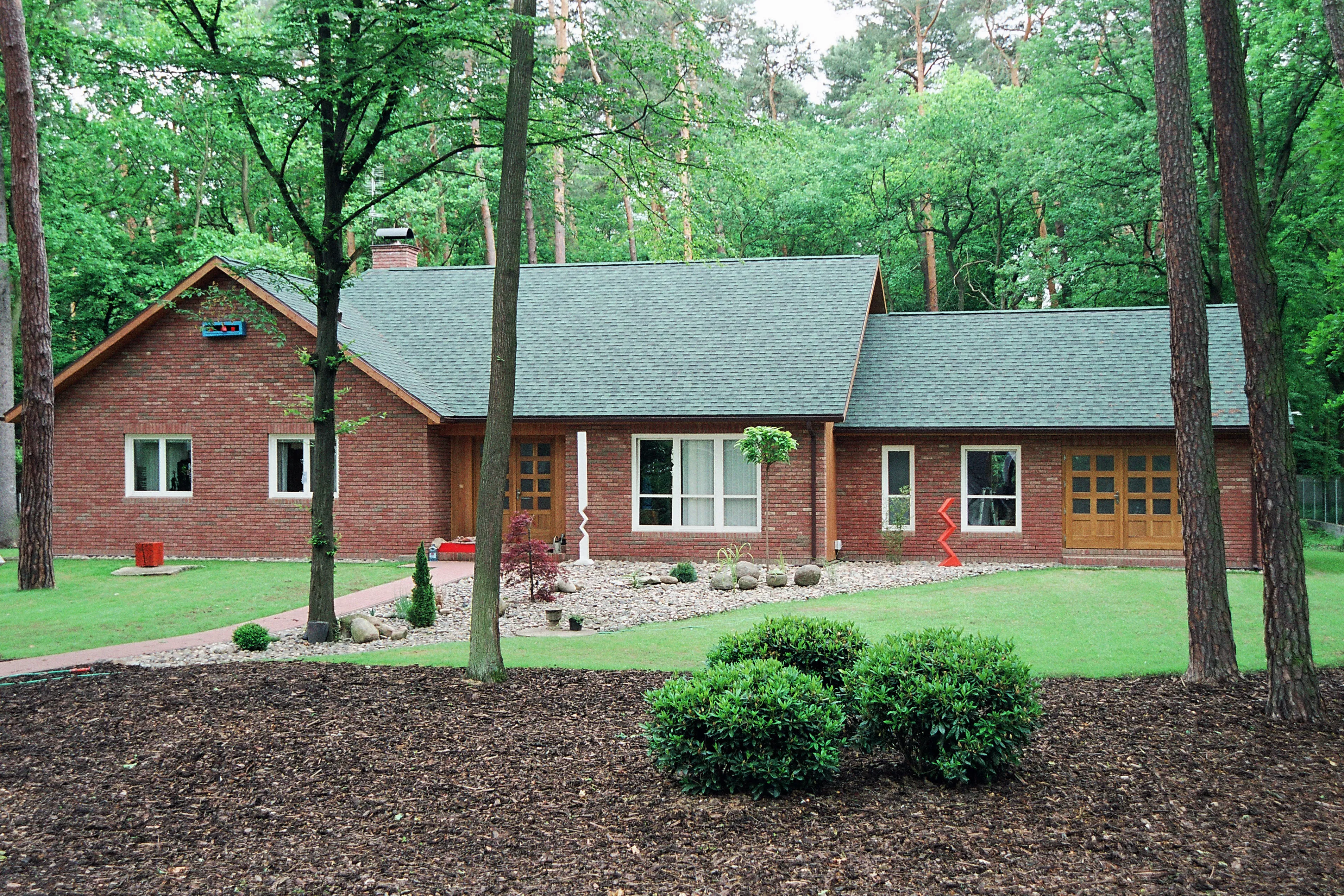 Together with Cambridge Xtreme 9,5°, Cambridge Xpress is the best option for your shingles roof. Both offer a perfect solution on new buildings and renovation projects. Cambridge Xpress is the biggest shingle in Europe, offering both European product quality and Canadian shingle know how.
Product data
| | |
| --- | --- |
| Roof Shingle width* (according to norm EN544) | 1038 mm (± 3) |
| Roof Shingle height (according to norm EN544) | 349 mm (± 3) |
| Weight | ± 12,3 kg/m² |
| Coverage/bundle  | 3,10 m² |
| Roof Shingles/bundle | 20 |
| Bundles/Pallet | 42 |
| Granule adhesion (EN 12039) | max. 1,2 g |
| Tensile strength (width)* (EN 12311-1) | 850 N/50 mm |
| Tensile strength (height)* (EN 12311-1) | 550 N/50 mm |
| Elongation width + height* (EN 12311-1) | 3,5% |
| Nail shank tear resistance* (EN 12310-1) | 140 N |
| External fire performance | BroofT1 |
| Reaction to fire | class E |
| Declaration of Performance (DoP) | www.ikodop.eu |
| Platinum warranty | 15 years |
| Total warranty - warranty system | 25 years |
* Registered average values
Cambridge Xpress = the biggest laminated architectural shingle
Not to bother you with too much technical details, but the average laminated or architectural roof shingle offered on the market measures 1000 x 336 mm. With Cambridge Xpress IKO Shingles offers a laminated shingle with dimensions 1038 x 349 mm. This larger shingle size is more efficient as it means more coverage on your roof in faster time.  Good news for roofers! Our Canadian IKO colleagues proved in a clear movie how easy and fast the shingles application becomes when using this larger IKO laminated architectural shingle.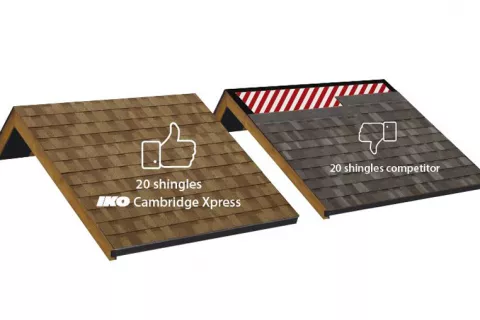 Calculate how many shingles and accessories you need for your next project!
Dimensional shingle in beautiful natural colours
Cambridge Xpress has a unique look and feel: it makes your house look a bit classical, somehow traditional but still contemporary. Thanks to its 8 natural colours Cambridge Xpress suits every home. These 8 colours are carefully designed with blends of granules. The original purpose of these granules is to protect the waterproof bitumen on your shingles. This protection could be guaranteed by other material as well, but only granules combine this protection with great esthetics. IKO coated granules are carefully blended to assure beautiful natural colours. These shingle granules are finished with a coating to prevent colour fading.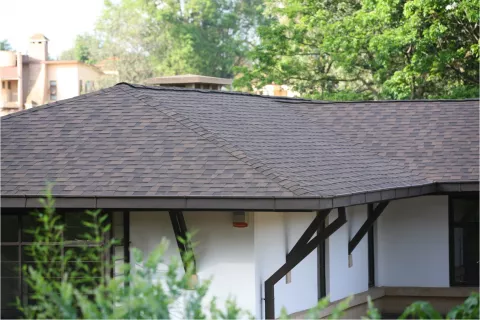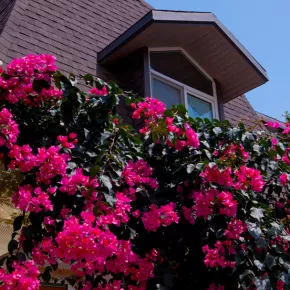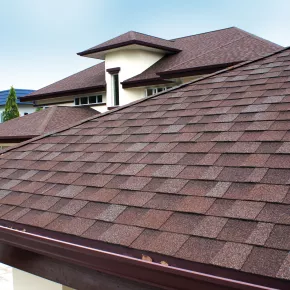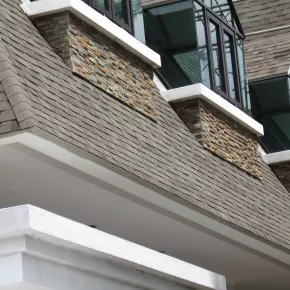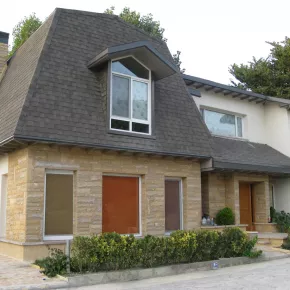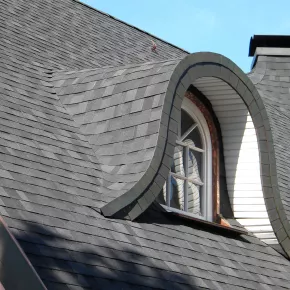 Perfect for all your architectural roofing projects!
But why limit the use to the roof of your house? Cambridge Xpress is also suitable for many of your other roof projects. Looking for roofing material for your guest house design, boathouse roof, stable roof construction, carport, gazebo or wood pool house? For these types of classy buildings, people often tend to choose (cedar) wood shakes. Wood shingles offer a certain charisma and authentic look. IKO laminated roof shingles can easily recreate this same look and feel at a high quality, but at economical price. The natural colored granules and the unique shape of the shingle make Cambridge Xpress the ideal roofing solution to grant your elegant house, stylish stable roof, extraordinary pool house roof or your chic guest house roof the exclusive look you've always wanted.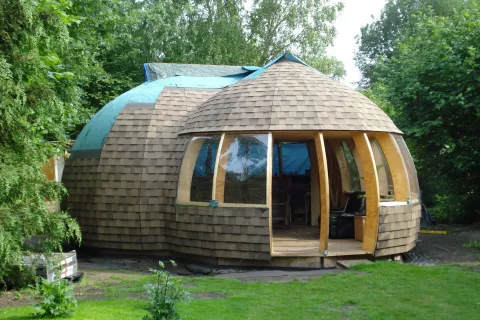 Match your hips and ridges in the same colour
Our classic shingles Superglass is offered in the same natural colours as Cambridge Xpress, so it can function as hips and ridges for your roof.  This way we can assure your roof will be completed in one perfect, authentic colour and style.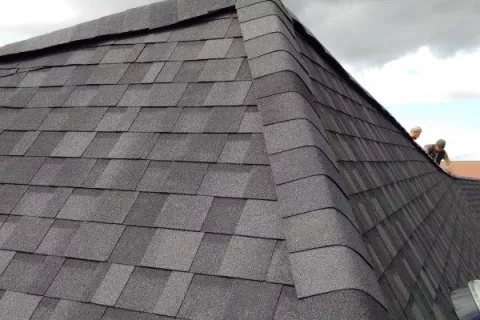 Best choice for your new roof or re-roof project
Thanks to its big size (which is easy for installation), IKO's longtime experience and the use of excellent components (like its fiberglass, granules and bitumen), Cambridge Xpress is the option for your roof! And with a total warranty of 25 years (of which 15 years platinum warranty), you are guaranteed to enjoy your roof for decades!
Explore some more advantages on the most efficient laminated roof shingle:
More coverage than any standard roof shingle.
New Special Cambridge Xpress lane for faster application of the shingles.
This extra large nailing area is known as the "Cambridge Xpress Lane"
For improved nailing shingle performance especially on steep roofs.
Available in 8 natural tones and contemporary colours
Excellent solution for renovation projects…
…and for any roof shape. Express your individuality!
Application instructions:
Easy application (for professional roofers):
Base is a wooden or concrete underdeck construction with a waterproof IKO underlayment.
Apply roof shingles with IKO nails.
You would need +/- 35 pc/m². Valley, hips and ridges are easy to install without purchasing a huge range of extra accessories.
Use Superglass 3TAB shingles to cover hips and ridges.
Foresee solid insulation and also good ventilation for an optimal and long-lasting roof - improving heating and cooling costs.
Eaves, rakes, walls, chimneys, roof windows, etc. require metal flashings.