DiamantShield - DiamantShield - Black (01)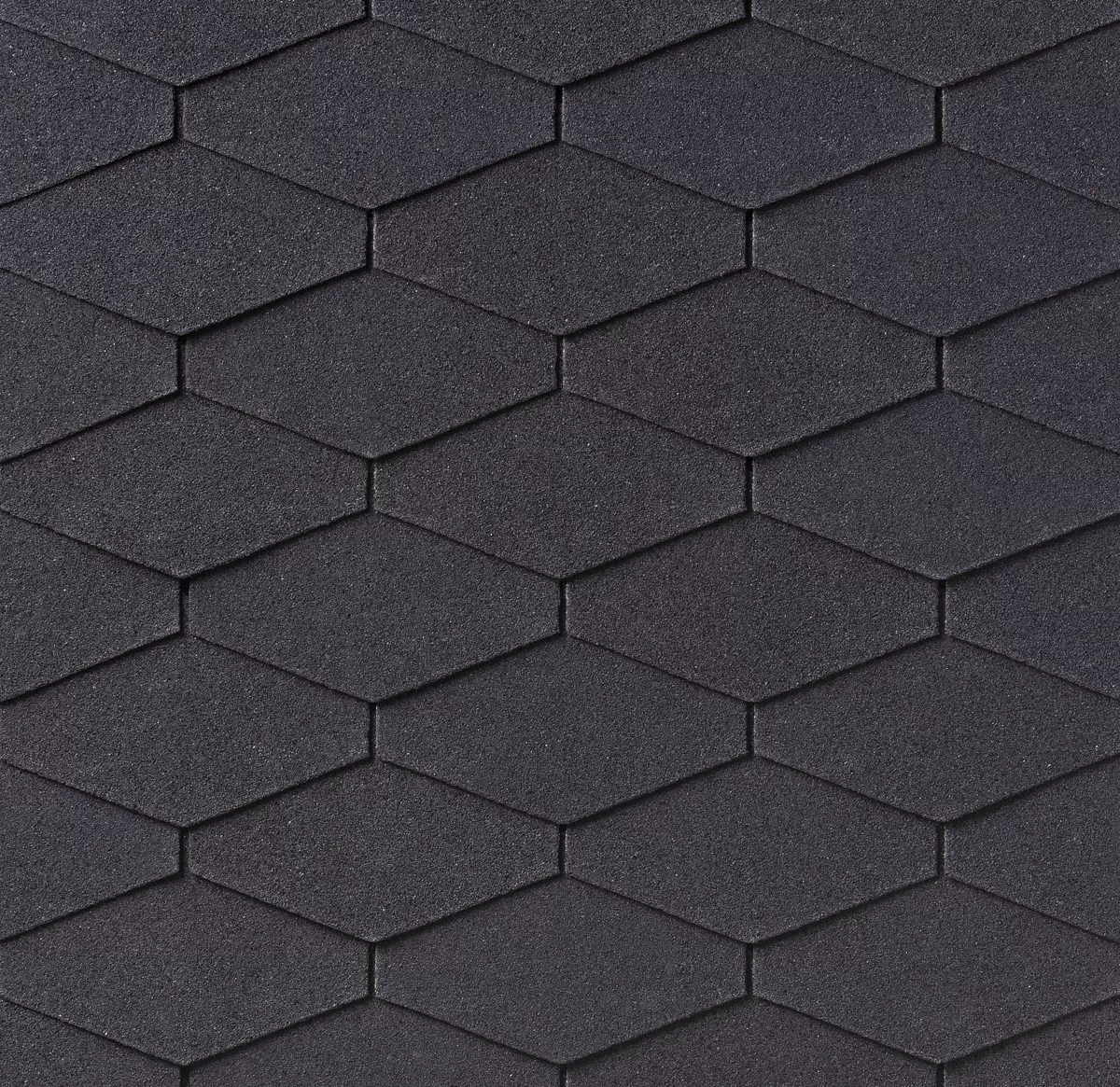 IKO's DiamantShield roof shingle is a triangular shaped shingle that, thanks to its self-adhesive features, fits every exclusive project. It can also be installed in each corner of the world, from the cold Scandinavian landscapes to the almost tropical summers of Spain.
Product data
| | |
| --- | --- |
| Roof Shingle width (according to norm EN544) | 1000 mm (± 3) |
| Roof Shingle height (according to norm EN544) | 284 mm (± 3) |
| Weight | ± 11,1 kg/m² |
| Coverage/bundle  | 2,46 m² |
| Roof Shingles/bundle | 22 |
| Bundles/Pallet | 36 |
| Granule adhesion (EN 12039) | max. 1,2 g |
| Tensile strength (width)* (EN 12311-1) | 1000 N/50 mm |
| Tensile strength (height)* (EN 12311-1) | 600 N/50 mm |
| Elongation width+height* (EN 12311-1) | 3,5% |
| Nail shank tear resistance* (EN 12310-1) | 175 N |
| External fire performance | BroofT1 |
| Reaction to fire | class E |
| Declaration of Performance (DoP) | www.ikodop.eu |
| Platinum warranty | 10 years |
| Total warranty - warranty system | 20 years |
* Registered average values
Resistant to strong winds (up to 220km/h!)
Choosing the right roofing material in stormy areas can be a burden. DiamantShield is a popular house shingle that has an exceptional resistance to strong winds, which makes it the ideal choice for challenging building projects close to the coast or high up in the mountains. The hexagonal alternative of the DiamantShield roof shingles, the ArmourShield roof shingles, have proven this resistance when being extensively tested in a wind tunnel. The results of these tests were very remarkable. ArmourShield roof shingles easily resisted winds from 177km/h for up to 2 hours. But even more impressive was the way the resisted the strong winds up to 220km/h. Because DiamantShield is made with the same excellent quality as the ArmourShield, it is the best and safest choice for roofs located in stormy areas!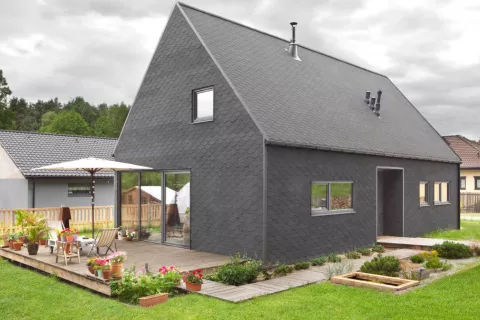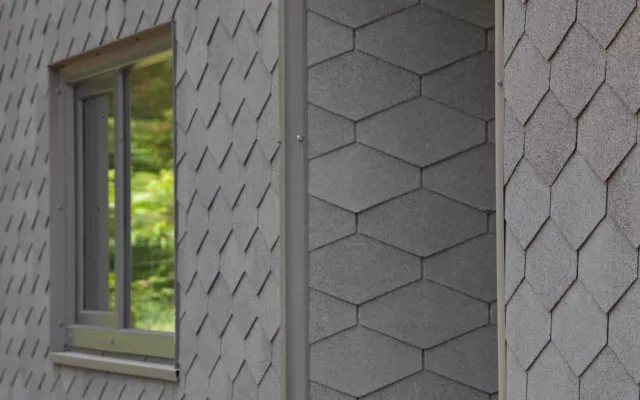 Calculate how many shingles and accessories you need for your next project!
Application on roof slopes from 15°-90°
But the use of DiamantShield is not limited to roofing jobs. Thanks to its self-adhesive character, this shingle can be installed on roof slopes from 15° up to 90°, which means you can install DiamantShield on vertical walls. So if your next house or building project can use a special touch, this is what you need. Instead of choosing boring bricks, cold metal plates or wooden boards for house fronts or wall, choose DiamantShield. The use of roof shingles on facades and walls can give your house the exclusive and fresh architectural look you are searching for. The application on a vertical wall is as easy as on a normal steep roof, check out for yourself in this clear instruction movie!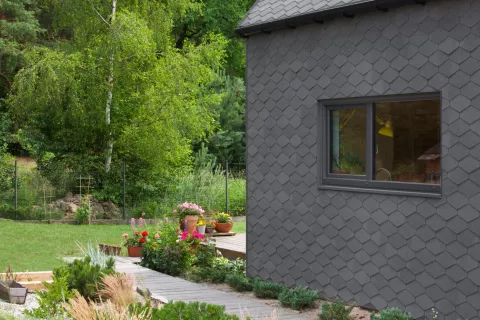 If you are looking for a house shingle in the same impressive quality, but not in a triangular shape, the hexagonal ArmourShield roof shingle will surely offer the right solution for your special projects.
Your advantage with this exceptional DiamantShield roof shingle:
Self-adhesive shingle
Can be used on steep slope roofs
Excellent protection against wind-driven rain and ice dams
Exceptional resistance to strong winds
More economical on low slopes (down to 15°)
Easy application (for professional roofers):
Base is a wooden or concrete underdeck construction with a waterproof IKO underlayment.
Apply roof shingles with IKO nails.
You would need +/- 35 pc/m². Valley, hips and ridges are easy to install without purchasing a huge range of extra accessories.
Foresee solid insulation and also good ventilation for an optimal and long-lasting roof - improving heating and cooling costs.
Eaves, rakes, walls, chimneys, roof windows, etc. require metal flashings.
Installing self-adhesive shingles: