Bitumen roof shingles on vertical walls and steep slopes
Modern architectural design has changed a lot through recent years, even when we consider typical roof and wall material. Many standard roofing materials can now be installed on both very steep slopes and vertical walls. Nowadays these materials used on roofs and walls, not only have a waterproofing function, they also have an aesthetic importance. 
The most commonly used materials are clay tiles, metal tiles, slate or wooden shakes and bitumen shingles. In taking a closer look at bituminous shingles as a roofing material, we can see one of the advantages is that they are very light, which makes them easy to apply on a wide angle from 9.5° up to 90° degrees (i.e. a vertical wall).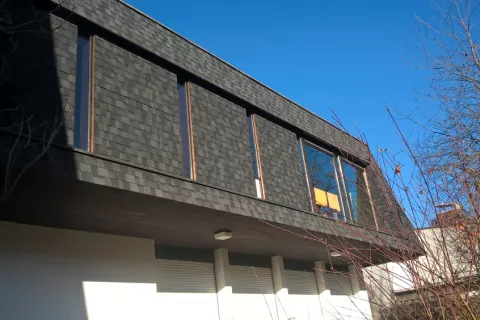 One of our most suitable roof shingles is the self-adhesive IKO Cambridge Xtreme 9,5°. Thanks to its usability on extreme slopes (9.5° up to 90°), many architects and designers choose this roofing material for its 3D dimensional look, with imitation of wooden shakes, natural stone and slate, resulting in an exclusive look and feel. The IKO Cambridge Xtreme 9.5° is available in seven natural colors and provides a 30 years warranty on material.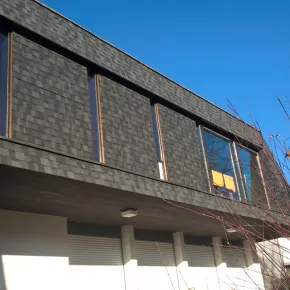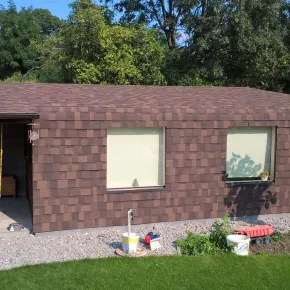 Another IKO shingle suitable for vertical roof installation is the IKO Shield shingle. Available in both a hexagonal (ArmourShield PLUS) and triangular (DiamantShield) shape, it is the perfect choice for giving walls an extraordinary look. Available in a wide colour range and applicable on roofs/walls from 15° up to 90°, the perfect solution to make your next project aesthetically pleasing. Take a look at this wonderful home covered in DiamantShield.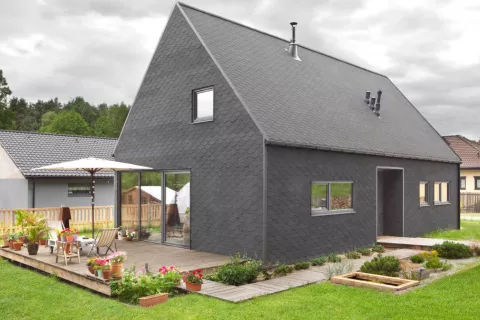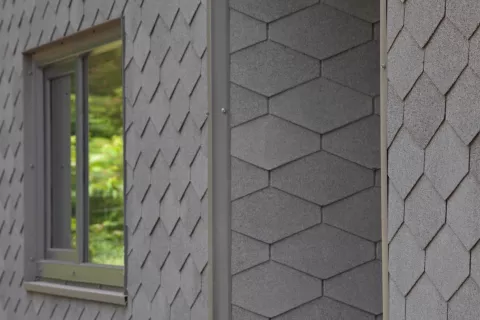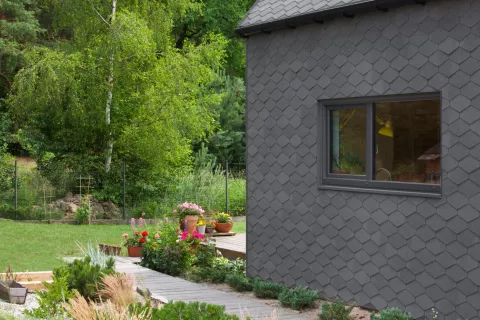 How to install shingles on very steep slopes or vertical walls
A steep slope roof shingle application (including mansards and vertical walls) is becoming a common practice. The maximum slope for standard shingles with wind seal dots or thermo-adhesive dots is 85°. For self-adhesive shingles the maximum slope is 90° which means they can be used in a vertical wall installation. 
In these cases the gravitational force acts on shingles totally differently to that of a standard lower sloped roofs. The use of bitumen shingles on slopes greater than 60° degrees require the use of special application methods due to the very steep slopes reducing the effectiveness of factory applied wind seal dots/self-adhesive zone, especially in colder climates and shaded areas.
If standard installation methods are used for bitumen shingles on these steep slopes, problems can occur that are not a result of any weakness or defect in the product, but rather because of ineffective application methods.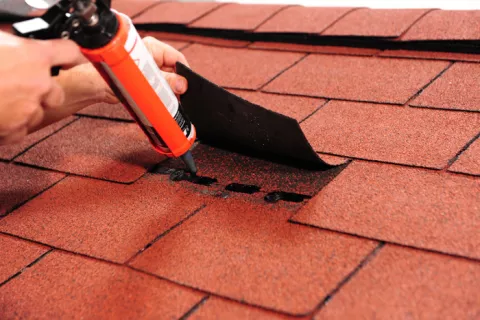 If a roof slope is from 60° - 90° degrees, IKO Cambridge Xtreme 9,5° should be applied by the following recommended method:
The roof deck for IKO Cambridge Xtreme 9,5° can be made from Plywood, OSB or sheathing boards;
Plywood or OSB shall be exterior grade and wooden boards must be maximum 15 cm wide. The roof deck must be smooth, dry and free from warped surfaces;
Remember that plywood or OSB boards are always recommended for very low or very steep slopes!
Use IKO Armourbase underlay for slopes between 60° and 85° degrees;
For slopes from 85° - 90° degrees (vertical wall) an underlay is not required but recommended.
Use the correct IKO roofing nails;
Secure every shingle of IKO Cambridge Xtreme 9,5° with 6 nails in the nailing zone;
Drive the nails straight so that the nail heads are flush with the shingle and not cutting into the shingle surface;
During cold weather the application of extra mastic must be added in the same manner;
Apply only a thin, linear, uniform layer of asphalt mastic less than 3 mm thick and 25 mm up from the bottom of the shingle;
Excess amounts can cause blistering and sticking of the shingles!
Remember: application on vertical walls and façades is always better during warm weather when self-adhesive bitumen glue is more effective!
There might be an unvented space behind a mansard roof or vertical wall. It is important to provide a properly ventilated flow-through air space behind the roof sheathing to prevent the entrapment of moisture-laden air;
Therefore, air must be able to circulate freely between the insulation and the nailable roof deck
Proper ventilation is crucial to extend the life of the shingle roof;
For steep slopes and façades it's ideal to create the required ventilation with IKO Armourvent Multi;
Most major building regulations require a minimum ventilation ratio of 1 m² net ventilating area per 300 m² of attic floor space (1:300). For steep slopes and façades 1 m² net ventilating area per 600 m² (1:600) is enough. It is always divided evenly between the eaves and the top of vertical wall;
Remember: the air gap between the insulation and the roof deck must be 4 to 6 cm;
Following these instructions will assist you or your roofer in installing the shingles correctly.
Safety first: working on steep slopes can be dangerous, so be sure to always use a safety rope and harness where needed.
Remember : Shingles should seal to the underlying course when the factory applied asphalt sealant is sufficiently warmed by the heat of direct sunlight. When application conditions might limit the effectiveness of the adhesive strip, such as cool weather or in areas subject to high winds or blowing dust, shingle adherence should be ensured through manual sealing by Shingle Stick or Plastal Stick.
These pictures are a few examples of what can go wrong when you don't follow the recommended application method.
Failure of buckled shingles on façade because of movement of the wooden boards!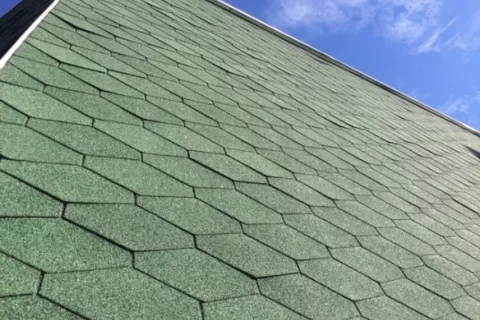 Visible movement of wooden boards and gaps between!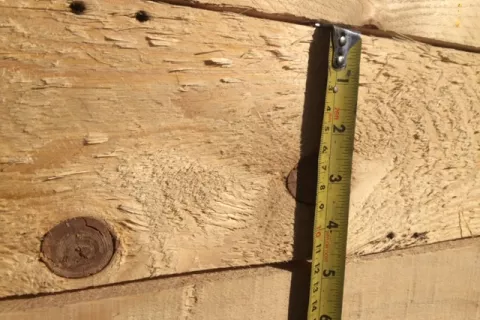 Vertical wall application without extra bitumen glue can cause peel off shingles especially with lack of ventilation and movement of the wooden deck!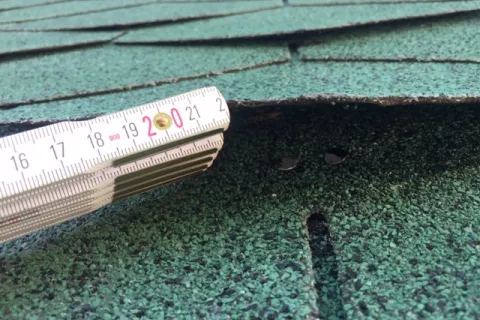 So be sure to follow the recommended application method, in order to create an impressive end result on your roof and wall. Good luck!
Interested in one of the shingles mentioned in this article?
Order your A4/A5 sample here!
Interested in the product mentioned in this blogpost?