Shingles on tiny houses: what are the possibilities?
Dreaming of more freedom and sustainability in relation to your home? You are not alone.
With the current economic situation more people are searching the house market for smaller accommodations such as tiny houses or small mobile homes.
A revolution is taking place and the future is tiny.
Because there is not any official definition of a tiny house, it is generally thought of as a small house, typically sized under 50m². While they can be built on foundations, most tiny homes are built on trailers. This style of tiny house is often referred to as a tiny house on wheels. Although tiny houses originated in the United States, more and more Europeans are turning to this new type of lifestyle: flexible, mortgage free and often located in the countryside.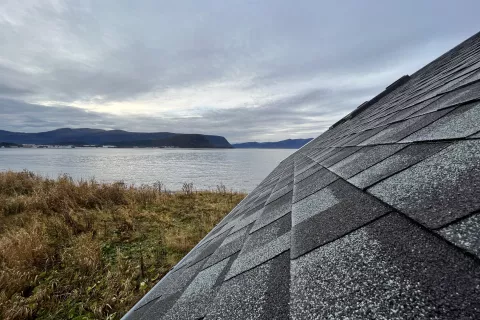 Main characteristics of a tiny house
A tiny house is usually off-grid and self-supporting. You don't need to be connected to official water, electricity, or sewer services. Just like a caravan, a tiny house fits into the dimensions of a truck trailer. But a tiny house is higher and built with normal walls (with traditional wood-house construction technology).
Most of the people involved in the tiny house field are Do-It-Yourselfers. It is incredibly empowering and fulfilling to build your own home from scratch. As the tiny house movement becomes more mainstream, more companies are trying to capitalize on the increased demand by offering pre-built and custom homes as well.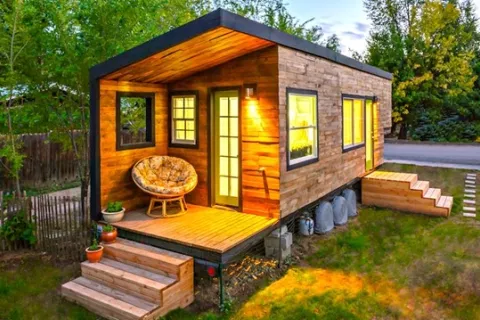 Main structure and used materials
There are several different ways to build a house, each having their own advantages and disadvantages. The most common approach for tiny houses is a high-quality wooden construction which is typical for wooden houses. This modern solution allows the building to breathe and creates a natural indoor climate. The basic structure or skeleton of a tiny house is built from very dry and precise prisms and joists (KVH prisms). All joints are interconnected several times, increasing the overall strength. This results in an enormously strong and solid structure. Installed windows can be wooden or aluminum with two or three layers of glass.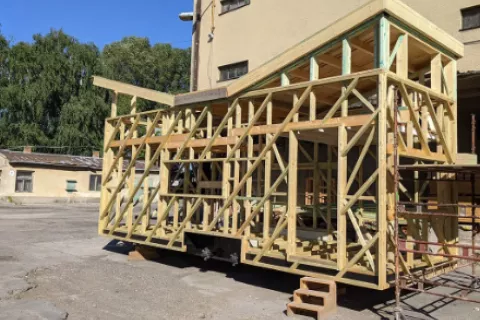 IKO Shingles on roof and walls
Normal to steep roof slopes
A nice and natural look for your tiny house is covering the exterior walls with nice 3-dimensional bitumen shingles. The self-adhesive Cambridge Xtreme 9,5° roof shingle with an application slope from 9,5° up to 90° is the ideal option. Combining one of the 7 natural colors with the 3D shape will imitate the look of wooden shakes or slate. Because many owners of tiny houses are counting on solar energy, they prefer sloped roofs with solar panels. Using 6 nails per one shingle and applying 3 dots of Shingle Stick during cold weather application will guarantee perfect installation on steep slopes from 60° up until 90°.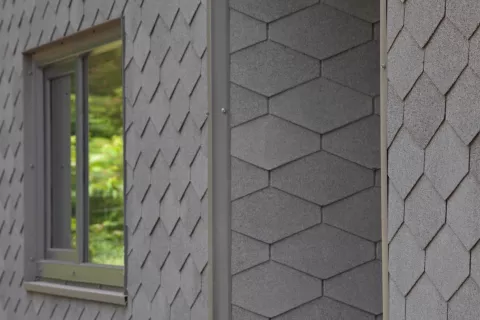 Low roof slopes
Otherwise IKO also has a smart solution for extremely low slopes from 4°- 15° without nailing: IKO Thermo System. As tiny houses are often covered with OSB on walls and roofs, Armourbase Thermo AD is ideal for a low sloped wooden roof. This special underlayment can be torched on top of the OSB and any IKO shingle can be layed to that melted bitumen without nails. This means that the roof is not penetrated by any nail and the very low slope is 100% secure against wind driven rain and water infiltration. For all slopes greater than 15°, the shingles are already properly nailed following our regular application instructions.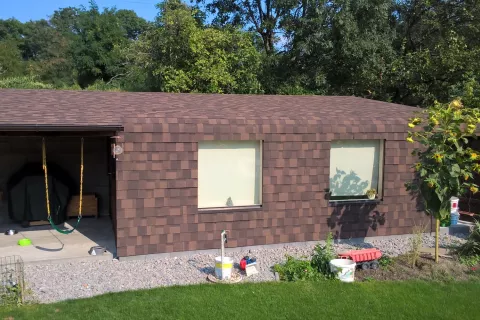 What is needed for a complete installation?
The small roofs on tiny houses are simple, installation can be handled very easily. All you need for the application is a hammer and a cutting knife with the hook blades. Don't forget to use an IKO Armourbase underlayment, they must be installed first. Armourbase underlays are very durable and strong, thanks to their polyester reinforcement. Furthermore they are 100% watertight because the polyester inlay is saturated by high-quality modified bitumen.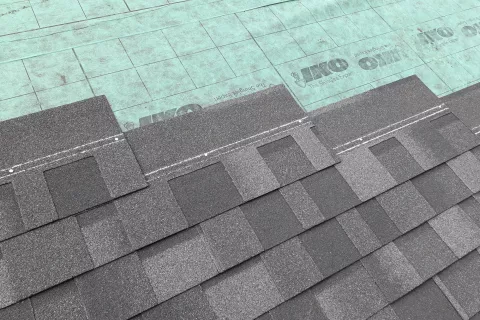 Moisture is one of a builder's biggest concerns. Water can damage wood, ruin structural integrity, and even cause toxic mold which can lead to severe health problems. Therefor the walls and the roof must be well insulated, and the wood must be treated against moisture and all-weather conditions. Roofs on tiny houses are usually insulated between the rafters and the best solution for this type of structure is the IKO Armourvent Multi. Armourvent Multi is ventilation in a roll, and you can ventilate a gable roof as well as a shed roof without any problems. Finally, is AV Multi covered with cap shingles, which is aesthetically pleasant.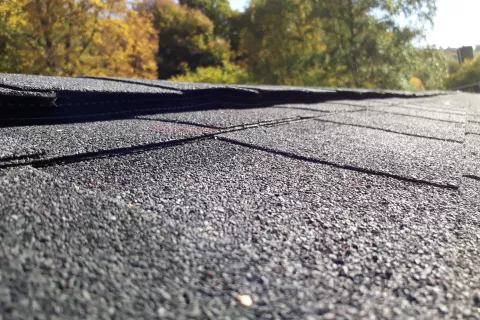 So if you are thinking about choosing the tiny house life, please know that IKO bitumen shingles can help you realize this sustainable dream. If you are unsure if it would fit your project, take a look at our inspiration corner and roof viewer to visualise our shingles on your tiny roof.
Good luck!
Interested in the products mentioned in this blogpost?