Make your roof storm resistant!
For many homeowners, damages caused by bad weather are one of their biggest worries, which shows the importance of a storm resistant roof. Experience in recent years shows that extreme weather events such as storms and heavy rains are becoming more common.
Let us share with you some important information on how to prevent your house and especially your roof from unwanted damage by high wind speed, and how you can make your roof storm resistant.
We will advise you on what to do when there is a storm alert, what you should think about when you plan to repair or renovate your roof, and what kind of checklist might be useful for you and your insurance company in case of damage caused by a storm.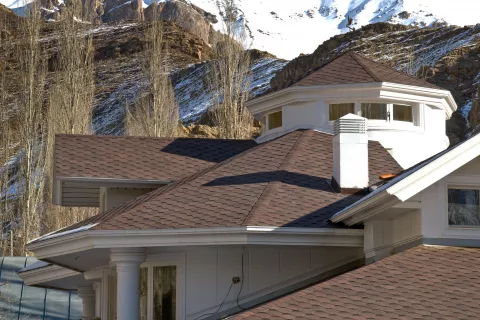 As a first tip we suggest you to choose IKO self-adhesive shingles such as Cambridge Xtreme 9,5°, ArmourShield Plus or DiamantShield to install on your roof.
These IKO shingles are extreme wind and weather resistant and conform to all European norms and standards.
Hazardous weather phenomena as storms, heavy rain or high wind
In recent years, there have been increasingly drastic weather events, related to global warming. Warmer air can absorb more water vapor than cold air, which causes more rain. Wind with a speed of about 75 km/h we can call a storm. In central Europe, especially in the Alps, strong winds or "whirlwinds" occur with a speed of over 120 km/h.
Torn roofs, damaged tiles, destroyed facades, broken windows… Depending on the intensity of the wind, storms can cause enormous damage to houses and their surroundings. Torrential rain, snow, floods, and large temperature fluctuations also put building materials to the test.
Therefore it is very important to think about the weather requirements when you plan to build or renovate your house, roof or façade and you must take these requirements into account when choosing building materials. Snow loads and temperature fluctuations play a special role at higher altitudes. In the typical areas with flood risk, flood protection is a topic that should not be forgotten.
The storm is coming, ...what to do?
If a storm is approaching, remove or secure all moving objects such as gardening tools, flowerpots and garden furniture.
You should park your car in the garage or away from the trees before the storm. Because flying branches and loose objects can cause damage to vehicles, but also to the roof of the house. Mainly, your roof provides a large impact area for a strong storm. Roof covering can get loose and cause damage to the roof cladding, allowing rainwater to enter the roof structure. On the other hand, falling pieces can cause serious damage around your house and even injure people and animals.
As roofs must withstand strong winds, snow loads and torrential rains, your roof deserves special attention during new construction and renovation.
Any IKO shingle but especially those with self-adhesive backside are solid and wind-resistant roof material as well as the technology for laying and fixing with IKO barbed roofing nails provides safety in turbulent times.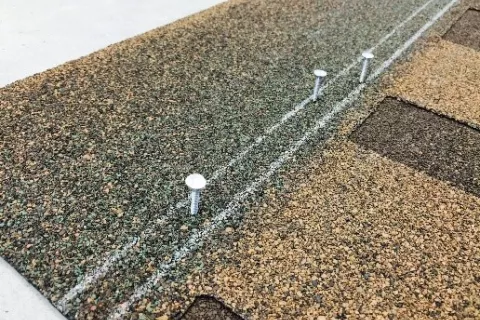 IKO Cambridge XTREME 9,5° - Self-adhesive shingle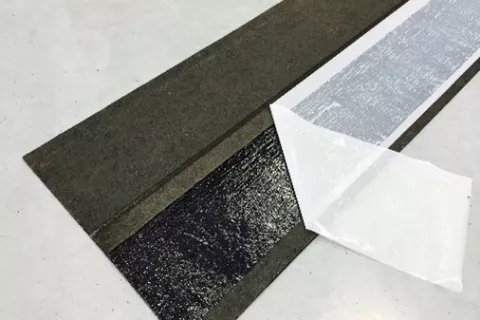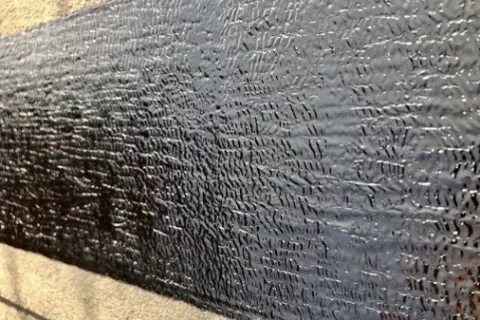 Proven resistance: wind-driven rain test, conducted in a Dutch lab
Durable against a strong wind with long life
IKO roof shingles are designed to protect your house from storm damage. Therefore, when designing your new home or renovating, you should choose suitable roof products that meet your regional requirements.
IKO roof shingles are ideally suited for the reconstruction of old trusses and wooden deck, because the fiber mat reinforced bitumen shingles covered with ceramic coated granules not only have a long service life but is also light and can be easily adapted.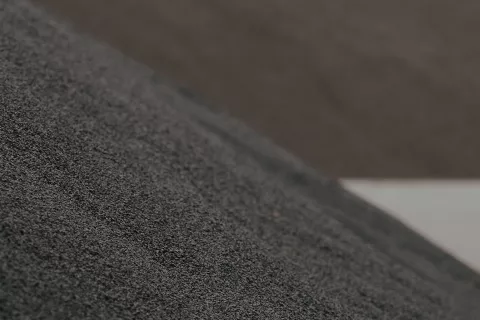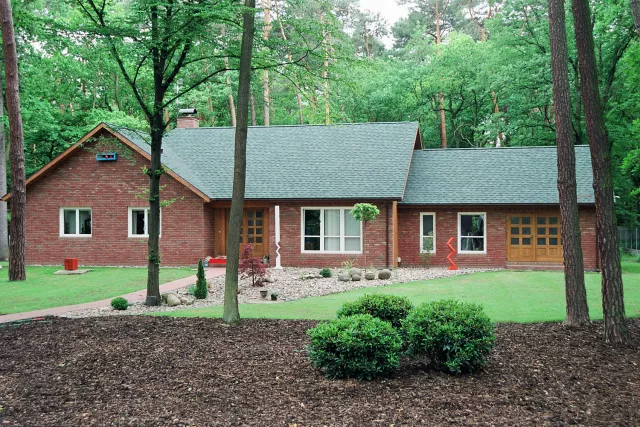 Request up to 3 samples to choose the right colour and quality for your next project!
IKO self-adhesive shingles on vertical wall or façade
Cambridge Xtreme, ArmourShield Plus or DiamantShield shingles are very easy to install on steep slopes up to 90 degrees because of their adhesive surface on the backside of the shingle. These shingles can be applied also as façade products, and they are very resistant to all weather situations, mechanical stress, and storms in extreme conditions. The reason for this is the extreme stickiness and very good properties against wind driven water.
High durability is also provided with very secure nailing to a wooden deck. Shingles are fixed with more roofing nails on slopes between 60°-90°. Roofing nails are galvanized and corrosion resistant. The shank of roofing nails is barbed or ringed and provides a very good resistance against pop-ups from a wooden deck.
=> So, a vertical wall covered with IKO roof shingles is high resistant to storms and high winds.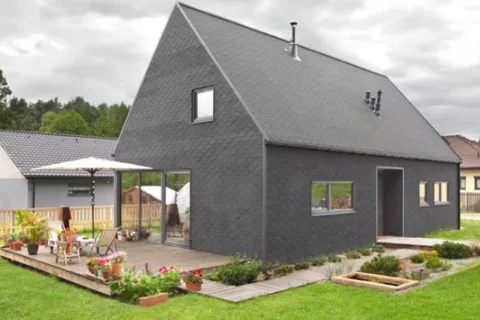 Professional installation of shingles
Another important factor that speaks in favor of IKO roofs in turbulent times is the fact that roof shingles are laid exclusively by trained professionals, which guarantees their professional installation. In the IKO Training center, roofers from various companies are directly trained by IKO application professionals. This provides investors, homeowners and architects with a well high level of certainty and satisfaction, resulting in a reliable roof over your head.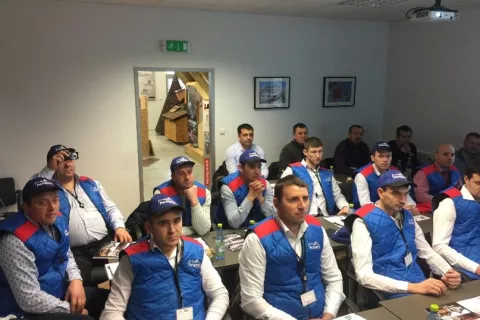 Strong storms run not only through the mountains or along the coasts, but also in flat areas or in the valleys. If the building stands in a very exposed place or unprotected in a wind corridor, the wind can reach very high speeds even in the valleys.
Wind load is becoming an important topic, for example in the case of free-standing homes on the outskirts of the village or tall buildings in the city. Whether your house stands in the mountains, in the valley or by the sea, it must withstand harsh weather conditions.
It's important that the choice of roofing products is selected well and the way how they are applied and fixed is carefully planned. IKO roofers and companies are properly trained and can also use the advice of IKO experts and technicians and it's all to protect your home.
Our Cambridge Xtreme 9,5° passed two impressive tests in a windtunnel. See how well it survives extreme wind conditions.  >>>
IKO laminated shingles = the right option
Cambridge Xpress or Cambridge Xtreme are ideally suited for roof reconstruction. These premium shingles with 3D design are imitating natural slate, stone or wooden shingles and they can cover any unevenness on the old roof structure.
When you are renovating the roof, the old trusses must often be prepared for concrete or clay roof tiles that weigh several tons and the static issue is very important. With IKO roof shingles, you can avoid this. Thanks to a shingle roof, which is many times lighter, no additional truss reinforcement is required.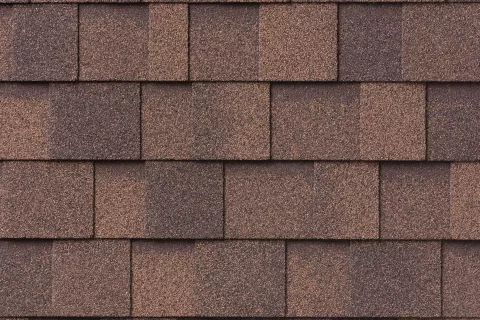 In addition, the IKO roof enables fast and easy installation on site by a trained roofer and can also be transported very well by a small truck. This can significantly reduce construction time.
IKO roof shingles are a light, durable and very effective roofing material, which allows you to save time and money on demanding maintenance.
Regular maintenance especially after a storm or bad weather
After every strong storm, bad weather and after a heavy winter as well, it is necessary to check the roof for potential damages. You can start from the ground if a visual inspection is possible. Are there loose parts or is the roof surface damaged? If the roof area is not visible from the ground, the roof should be inspected by a specialist. With the roof fall protection system, roofers or inspectors can move safely around the roof. For safety reasons, we do not recommend you climb the roof yourself if you are the home owner.
Is your roof damaged and leaking after the storm?
In this case, you should contact a roofing company in your area. The roofer can quickly review damages on site and depending on how big they are, he can temporarily stop the leakage and do the final repair later. If you are in imminent danger during a storm, firefighters are for sure the right partner to call.
Interested in the product mentioned in this blogpost?