Coiled Nails BOSTITCH - Coiled nails - 25mm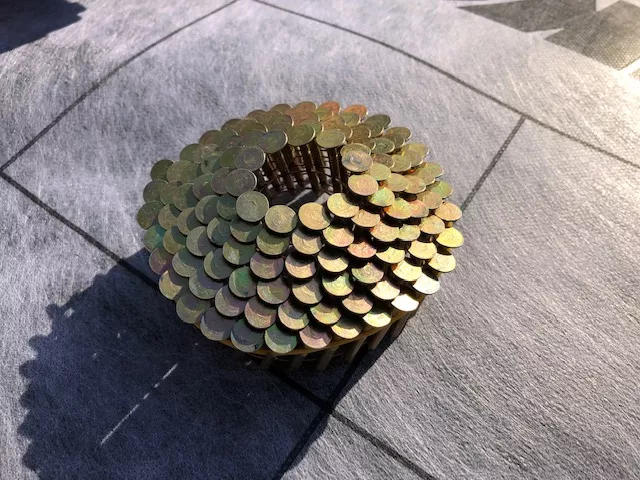 Be faster and save time and money! The roofer applies shingles 10 times (!) faster with a nailgun filled with coiled nails in comparison with loose nails.
IKO supports fast roofers and offers coiled nails from BOSTITCH available in 2 lengths: 25 and 31 mm.
Product data
Coiled nails BOSTITCH:
| | | |
| --- | --- | --- |
| Length | 25 mm | 31mm |
| Quantity | 7200 pcs. | 7200 pcs. |
| Coverage | ± 205 m² | ± 205 m² |
| Weight | 12,65 kg | 15,10 kg |
Advantages of these coiled nails:
Top quality universal nails 
for use in pneumatic nailgun of any brand
for very fast shingle installation (10x faster!)
with a zinc thickness of 8 microns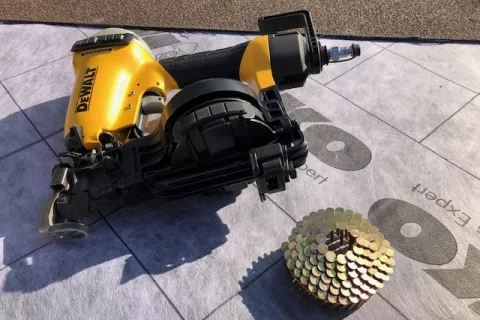 Coiled nails can be used for fixing IKO Roof Shingles very fast.
Laminated shingles (Cambridge Xtreme 9.5° or Cambridge Xpress) and nailing of hips and ridges require nails 31 mm in length.
Proper fastening is essential for a good roof. 
Drive the nails straight so that the nail heads are flush with, but not cutting into the shingle surface. Always nail 2,5 cm above the cut-out and 2,5 cm from each edge. For correct positioning and nail quantities per type of shingle and roof slope check out the detailed application instructions.
If your roof has a steep slope (>60°) or if you are living in a highly exposed area you will need to use extra nails and Shingle Stick adhesive.